Expertise in Animal Welfare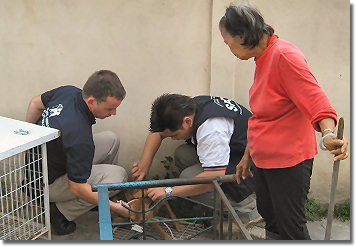 Global Animal Welfare Solutions staff have many years of experience in all aspects of Animal Welfare, Law Enforcement and Veterinary Services.
We can provide your organization, charity or NGO with the skills needed to develop and expand in your chosen field.
From basic animal catching and handling right through to the complex world of animal welfare legislation both in the UK and overseas we can provide a training program to suite you.
We have provided animal catching and handling training to overseas charities along with advice on how to investigate and enforce the local animal welfare legislation. We have worked with Animal Inspectors to draft Standard Operating Procedures, train new staff and carry out Animal Shelter Audits.
GAWS has also carried out assessments of daily routines, published legal handbooks and written technical manuals to improve the running of the organization, safety of the staff and overall effectiveness of the organization.
So whatever your location, requirements or budgetary constraints GAWS can come up with a solution.
Take a look at our Resources page for information on how to purchase our Animal Cruelty Investigation Field manual or our new pet microchipping service.
For further information have a look at our services page or e-mail Glyn with a specific query.