Expertise in Animal Welfare
Animal Cruelty Investigation Field Manual
If you have ever wondered how to properly investigate animal cruelty this manual is a useful starting point.
Covering among other topics how to document cruelty in a way it can be used in legal proceedings on to specific investigation techniques, animal handling and behavior as well as the equipment you need to carry with you to be a safe and effective Animal Cruelty Investigator.
£12.50 inc p+p (UK) International orders welcome although postage will obviously depend on location.
Please e-mail your enquiry either using the contact form or to glynglobal@gmail.com.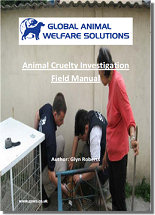 PeddyMark Microchipping and scanning.
Global Animal Welfare Solutions now offers a pet microchipping and scanning service.

With over 300,000 pets going missing every year in the UK alone , a microchip is the easiest way to permanently identify your pet. The microchips are manufactured in Europe to exacting ISO standards and comply with the requirements of the Pet Passport Scheme.
We come to you and offer a discount for shelters and rescue societies. Cost is approximately £10 – £15 pounds per animal but please contact us for a quote.
At present this service is only available in the South West. (Also Hereford and surrounding area if sufficient demand). All microchipped animals are registered with Petlog the main UK database which is administered by the Kennel Club.